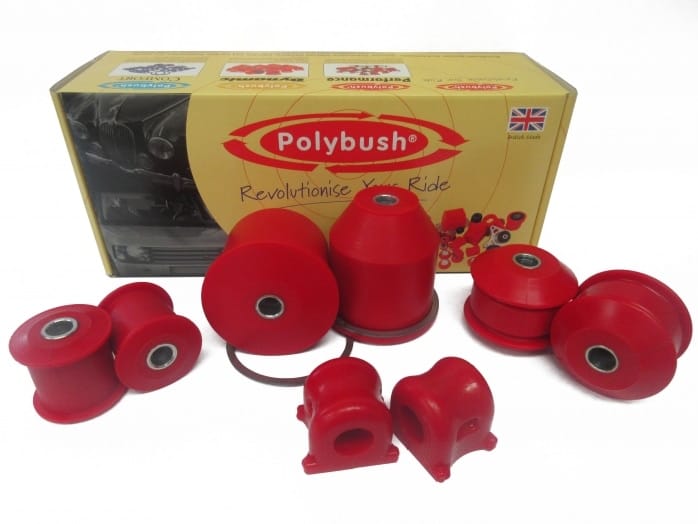 BUSH KIT DESIGNED TO COMPLEMENT AND IMPROVE UPON THE FANTASTIC PERFORMANCE OF THE CIVIC FK2
Kit 200 for the Honda FK2 was developed when we again worked in conjunction with leading Japanese Performance brand Tegiwa.
Kit 200 was designed to improve ride and stability both on track and road while at the same time boasting the general benefits of polyurethane from a brand that customers trust.
The initial design of the bushes was especially challenging in this instance, physically! Tegiwa sourced an FK2 that had been retrieved from the scrap yard, the external components of the car were removed and the rear axle beam was hauled up to the testing area in our Polybush factory… With Matthew our Design Engineer stating "I can't believe I even got into onto my work-bench… It was heavier than me".
During the initial fitting, the mechanic said, "I was surprised at how easy it was to install, particularly the rear axle beam bush which is huge!" As with all Polybushes, they are designed with an interference fit so no grease is required making it a real fit and forget product.
Testing was successful and Tegiwa customer Matt Duffy was more than happy to have the kit fitted on his Honda and take it for a whizz around the Nürburgring. Matt said, "manoeuvre time was immediately noticeable and more responsive, with cornering more stable and planted and once off the track the car oozed confidence".
Upgrade your Honda today with the new Polybush kit.
Full kits are available from Tegiwa, with prices from £368.26
For all media enquiries phone Alexandra Bryan on 01978 644316 or email alex.bryan@polybush.co.uk.