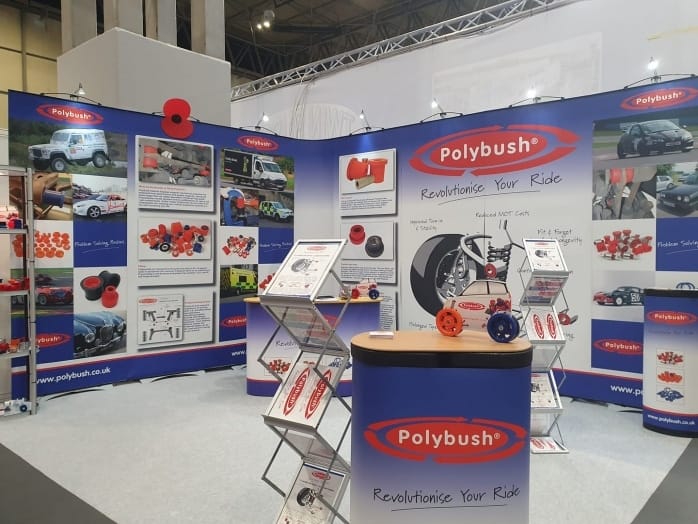 CLASSIC MOTOR SHOW 2019
Another great year for the Classic Motor Show
Another outstanding year for the Classic Motor Show, huge congratulations to the organisers for making it the best year yet, and to the visitors who made the show what it is today.
Polybush has exhibited at this show for more than 10 years, and we are yet to be disappointed.
As always, it is great to see a few familiar faces and some new who we were thrilled to welcome to the wonderful world of Polyurethane suspension bushes! And to have our existing customers explain to them the benefits from switching from the O.E. rubber parts is the reason we do what we do!
Did you see Practical Classics restore the Jaguar e-type? Although they never quite managed to drive it off the live stage, it was still a great achievement (especially with our Polybushes on board). This is a great classic car being restored by an even better team and we were proud to support this build and special thanks to Matt and the team for giving us a few shout outs along the way!
From being at this year's show we have found there were a couple of common misconceptions that the classic market has for Polybushes which can be seen below:
Myth Busters!
Polybushes make your ride harder.
Not at all, all of our bushes are manufactured so they match the original shore hardness of the rubber bushes that were placed on the vehicle in the factory, so although at first, they may seem hard, this is because it is restoring the suspension alignment to its original specification. We offer comfort or performance bushes depending on what use you have for your vehicle, from off-roading to racing.
Polybushes are made using injection moulding.
No, all of our Polybushes are made using a Dispensed cast with cure, this showcases not only the quality of our materials, but also the end products.
The problem with injection moulding is this often produces cheap and low grade PU products. In order to produce PU products using injection moulding, a company will need to purchase a pre-made PU in granular form, in order to melt it down and inject the liquid PU into a mould under high pressure. As this material can be melted and recast, this means that this PU has very short carbon chains as well as weak electrostatic forces holding the material together, ultimately resulting in a weaker product.
At Polybush all of our castings are made from dispensed cast PU that is always cured to get the most out of the material. Polybush material will outperform any non-cured/injection moulded PU in any loaded application. The mechanical properties of Polybush manufactured PU makes it an ideal material for vehicle suspension bushing due to its ability to withstand high loading and resistance to compression set, producing a bush with an extremely long service life.