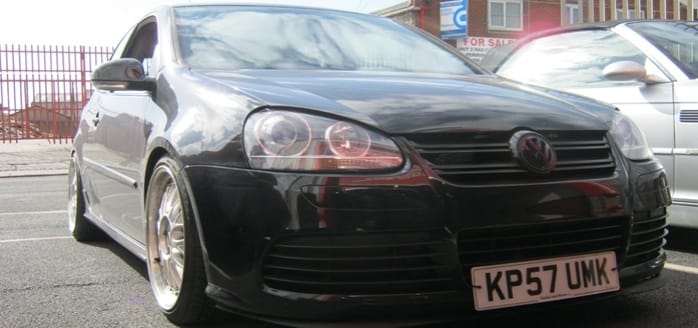 GOLF R32 – Fitting a bush kit
Fitting Polybush Kit 144 to a MK4 Golf R32
When Chris at VOLKS WORKSHOP said he was keen to fit a set of Polybushes to his 2007 R32, we decided it would be a great opportunity to photograph and document the whole fitment.
Chris's R32 was already a well-sorted car, having been remapped with a Milltek exhaust, BMC cold air induction kit etc though being on coilovers at a very low setting, the standard bushes were taking some punishment and starting to show signs of deterioration. It was the perfect candidate for fitting polybushes.
Polybush spent a day with the guys at Volks Workshop fitting a full polyurethane bush kit
We started by fitting the bushes to the rear of the car, as that was where the majority of the work would be, all the standard bushes came out quite easily using a small press.
This could have also been done by drilling out the rubber section of the bush, sawing through the outer shell and drifting out the steel remains, as imagined the polybushes went in exceptionally easy just using some washing up liquid and a vice.
Removing the old bushes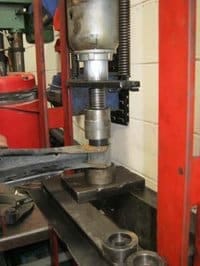 Fitting the Poylbush using washing up liquid and a vice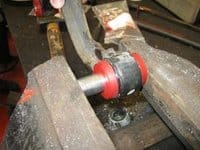 Rear arms with new Polybushes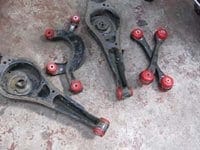 Polybush kit 144
All the rear arms with newly fitted polybushes were then fitted back up onto the car and the front wishbones are taken off.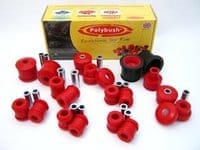 Chris from Volks Workshop Removing the
front wishbone rear bush.
(using a bit of old fashioned brute force)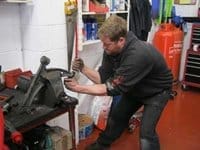 Polybushes fitted to the wishbone
The perfect fit for the car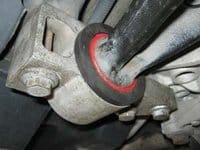 Polybush 44M
The front wishbone rear bush is utilising a new low friction blend of Polyurethane designed by Polybush.
This new material allows the Polyurethane in the bush to rotate without greasing or squeaking eliminating the need to routinely grease the bush, a truly fit and forget design!!
After all the bushes were fitted, Chris took the car for a long drive over the weekend (over 300 miles!!) reporting back saying that the car generally felt more responsive and agile. The most noticeable improvement was that the steering felt sharper and more precise. With the best thing being no increase in vibration or harshness of ride. An excellent improvement!!