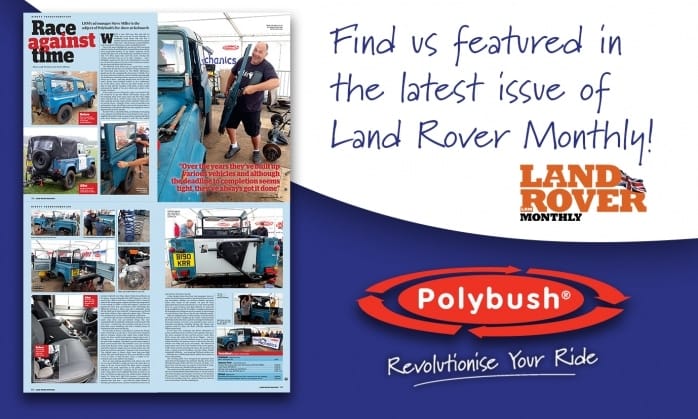 KELMARSH LIVE RESTORATION- LAND ROVER MONTHLY
Did you catch the latest issue of Land Rover Monthly?
In July 2019 we had the pleasure of working with Steve Miller from Land Rover Monthly at the Kelmarsh Land Rover show. We did a live stage restoration of his Land Rover defender 90 (pre-1993 model).
We faced ourselves with a big challenge on the day, not only did we have to kit out his beloved Land Rover with all new Polybushes, but also convert it from hardtop to soft top in just one weekend!
Once again Garry and the Mannic Mechanics rose to the challenge and not only got all of the restoration completed during the show but it drove out of our Polybush theatre beautifully on the final day, there is no doubt Steve was thrilled with the result.
For more information on this restoration, get yourself a copy of the February 2020 Land Rover Monthly issue, it's surely not one to miss!
To view our range of Land Rover bushes, visit our shop here
Special thanks to Mannic Mechanics and Steve Miller, without your continued support we wouldn't be able to create such stunning restorations.