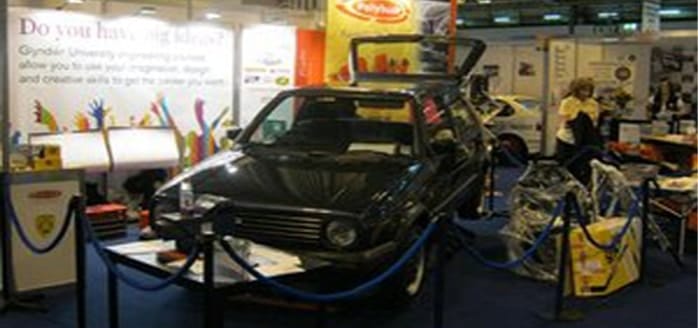 LIVE ACTION @ AUTOSPORT 2012
Polybush & Glyndwr University race-prepared a Golf MK2, Live at the Autosport 2012.
On Wednesday evening we arrived at the NEC with a standard road car.
As The Autosport International Show opened at 9 am on Thursday the clock started ticking 28 hours to go to prepare a race car!
Thanks to our friends in the motorsport world we fitted the following:
A Roll Cage from Safety Devices
Seats from Corbeau
Harnesses from Luke
An Exhaust from Fast Road Conversions
Shocks absorbers from Spax
Front & Rear Strut braces from Saxon Motor sport
Braided brake lines from Hel
Plumbed fire extinguisher and kill switch from Demon Tweeks
And of course Polybushes
As part of our ongoing commitment to bush design and excellence, Polybush works closely with Glyndwr University on a daily basis, so it seemed only right to work with them on our latest project for Autosport 2012.
Performance Car Technology students from Glyndwr University took a standard road car and over the 4 days of the show will prepare the car for the 2012 Production GTI Championship.
Polybush are delighted to be supporting the Production GTI Championship for a second series and were so happy with the way last years series went we decided to take it one step further!
The Golf MK2 prepared live at the show will go on to be raced by the Glyndwr Students in the 2012 Championship proving that motor racing is a sport for all levels of experience and budgets.
With a full range of VW Polybush ready and waiting to be fitted and a range of parts from kind sponsors Safety Devices, Fast Road Conversions, Corbeau, Luke, Saxon Motorsport, Hel, Spax & Demon Tweeks along with many others we are ready and waiting to go, so make sure to visit us on stand 7100 and watch the transformation live at the show.
For the full range of Polybush including the VW range visit our website https://www.polybush.co.uk email sales@polybush Tel 01978 664316