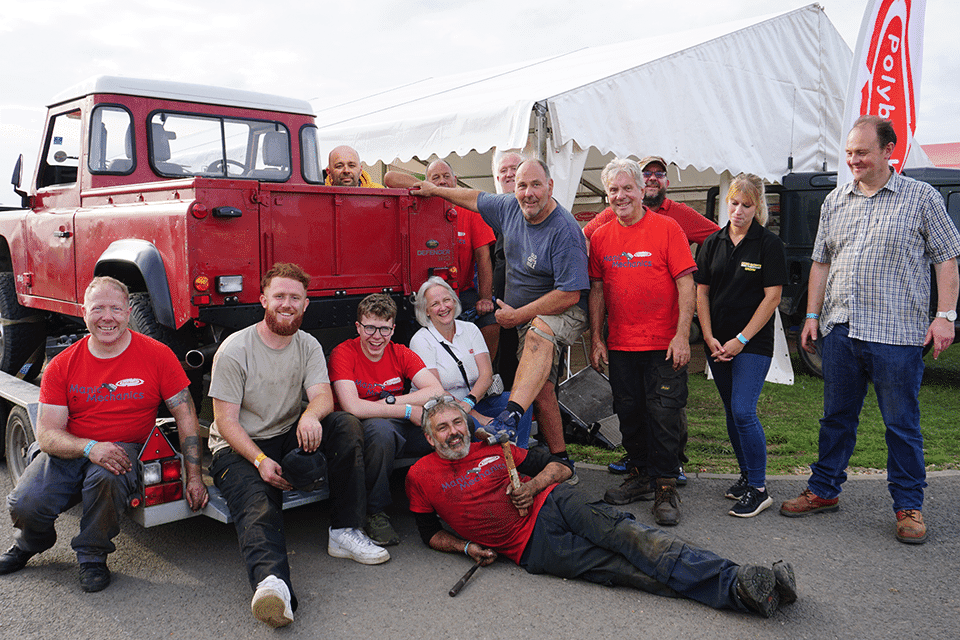 LRO Show 2022 – Roundup!
Another LRO Show has passed and Polybush has completed another live demo!
Another year has passed and another big build was completed at the LRO Show Peterborough
Swapping a chassis on a 25-year-old Defender is hard, especially when you consider a two-day deadline, the weather, and completing it in front of a live audience in a field!
Owned by Peter (a design engineer for Polybush) and used as a proper workhorse around a farm just as it was intended by Land Rover!

Used by Peter for nearly 20 years, Red (The Defender) really does get worked, It's now a classic and very original, so it doesn't go green laning or drive through mud bogs.
However, the nature of its role does mean it needs to cross vast farmlands with gear in tow. As the Manic Mechanics have to move everything to a new Galvanised chassis, it made sense to also service the diffs, replace the brakes and install new suspension (up front, as the rears had recently been replaced) as well as install a new clutch since the engine and its gearbox etc had to be removed and refitted as part of the course this would of course take extra time and at the expense of potentially not driving the defender for parade lap, but ultimately, worth the extra stress.
The chassis swap itself sounds like a big task and it is! Disconnecting the wiring loom, brakes, draining fluid and and taking off the front clip took up the morning of day one, then it was all hands on deck to remove the body which required a little heat, WD40 and a lot of sweat and strain to take off.
Removal of the body took approximately 10 people, as we were attempting this with limited space there was a lot of fanangling that required extra eyes, once this was removed, the body was taken outside and then the mammoth task of servicing the diffs, installing an entire new brake system, Polybushing the Defender then putting it all back together.
Land Rover originally specified 65a shore bushes for comfort and maximum articulation, so fitting a set of Comfort bushings that match that OE hardness will be in keeping with the vehicle in terms of ride and feel, but will also have the benefits associated with Polybush products.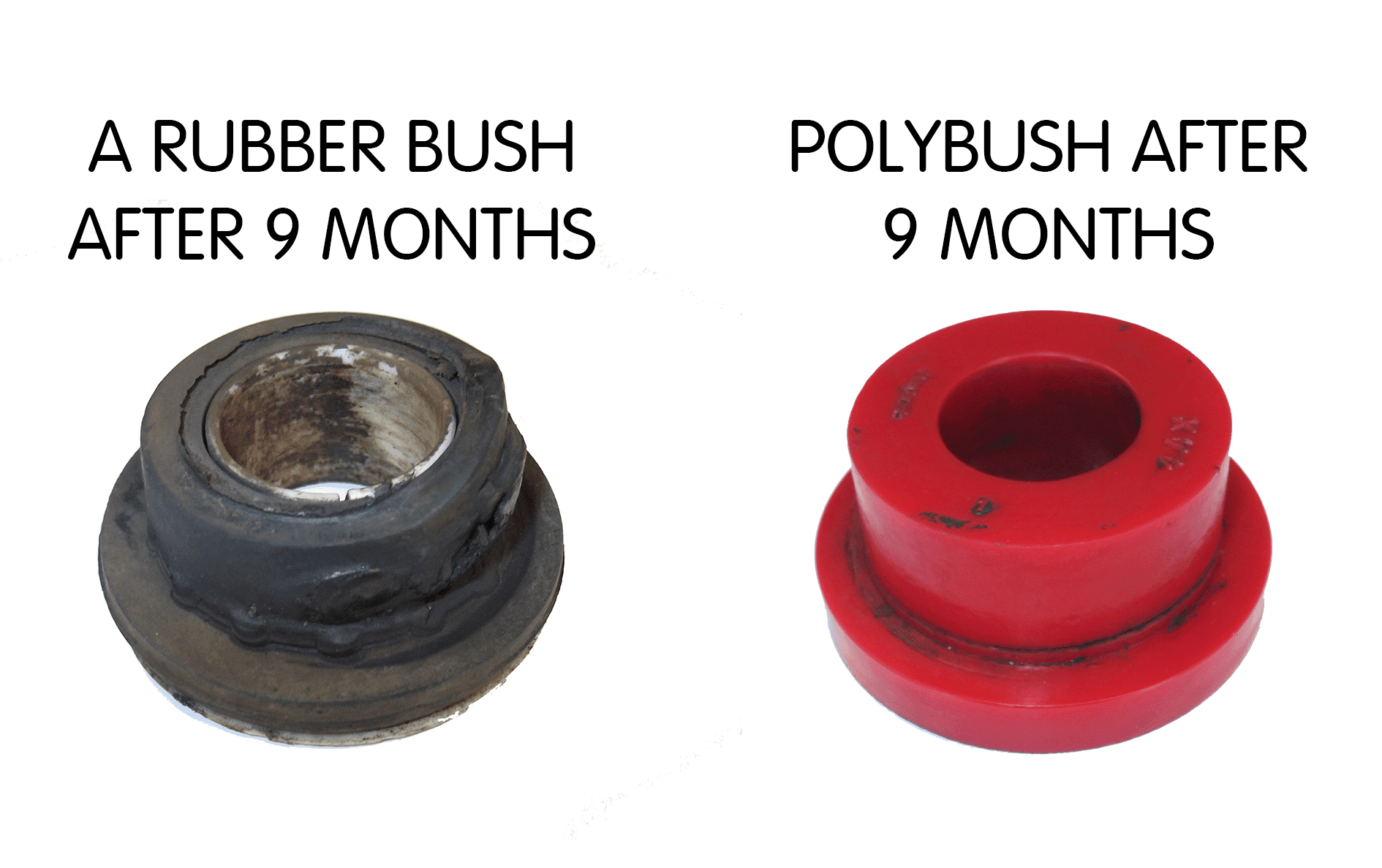 Due to their material, Polybush does not age like rubber nor does it suffer from compression-set, which makes them perfect for off-roading or where suspension alignment is key as well as when vehicles will be laid-up for longer periods of time – Moreover, Polybush is also completely unaffected by oil and fuel which is perfect for incontinent classics who like the mark their territory.  Polybush also require no special tools to install so anyone with a basic set of tools can install, even at the side of the road / trail, very handy when you're in a field.
Once the suspension parts, diffs and brakes were installed on the new chassis, the team moved onto the clutch and flywheel replacement.
As Peter truly uses his Defender and the engine was out, it really was the perfect time to get this upgrade underway – still on it's original clutch and the replacement took longer than hoped due to the nearly 25 year old bolts fighting hard to stay put, but as it is such a critical component the Manic Mechanics really dug in and pushed to get it done, all the while answering audience questions on the replacement.
Once the clutch, gearbox and transfer box were all back together the team stopped working on their individual jobs and came together to lift the drivetrain back into the new chassis then again to lift the body into its new home and bolt it all back together.
The body itself went on the chassis fairly easily but due to the nature of a nice new straight chassis and a pre-loved body, some adjustment was required to align and adjust to fit.
The team worked extremely hard, especially during the last hours of the show so that the Defender was in a rollable condition for their parade lap around the Land Rover Owner International Show.
Managing to build a rolling chassis in 16 hours was a HUGE feat of planning, pateince and skill so we'd like to thank all of the Manic Mechanics especially Gary, as well as Sam Colman (our MC) for taking their time to work flat out over a weekend to help another Land Rover owner complete the almost impossible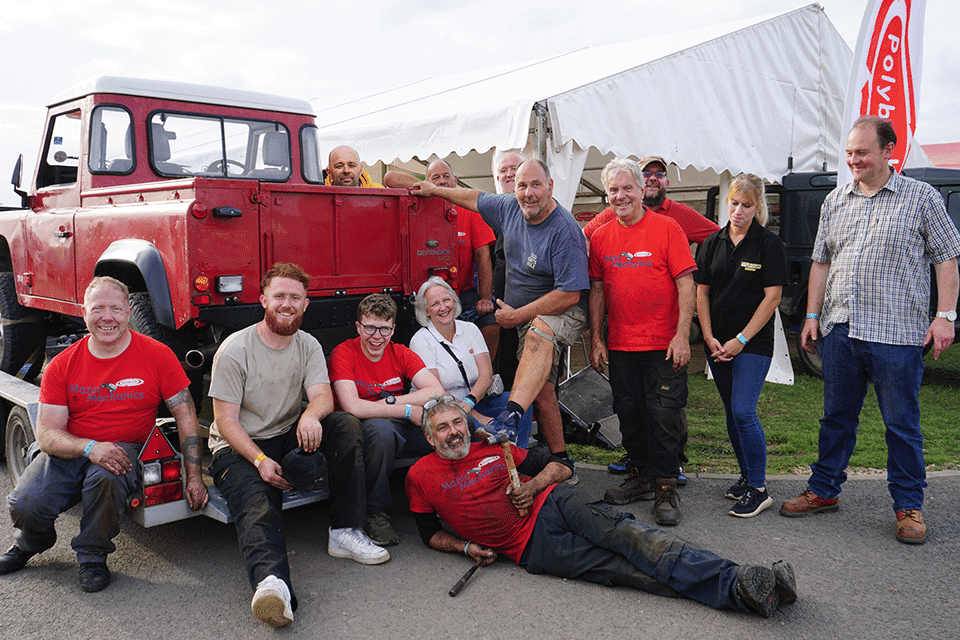 We can't wait to do it all again next year.