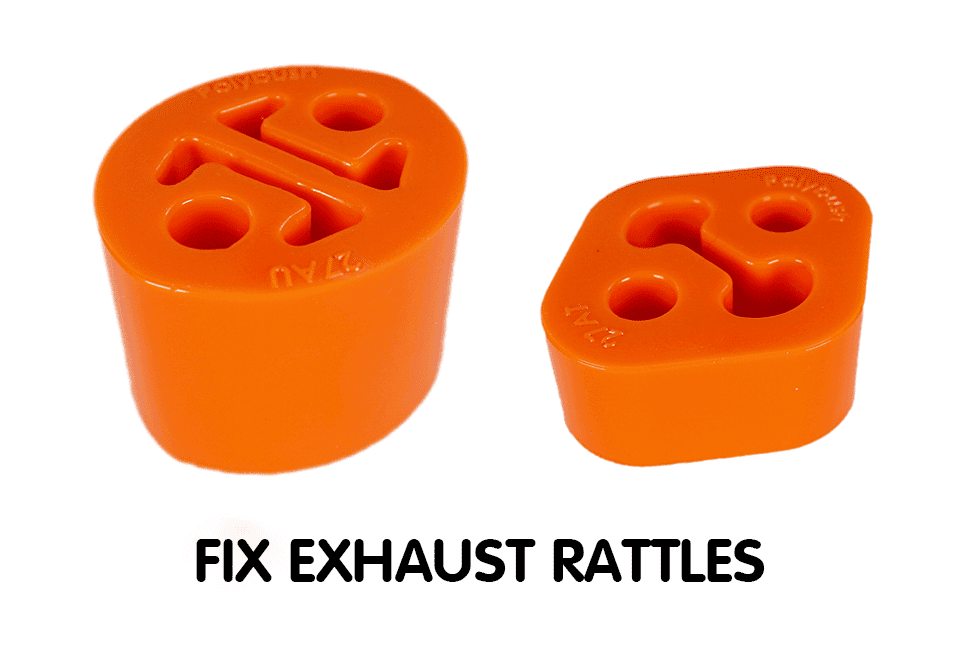 NEW PRODUCT: MX5 Exhaust Mount Bushes
Polybush MX5 Exhaust Mount Bushes
The main selling point of the Mazda MX5 was and is FUN, so when fuel, oil or just old age corrodes Exhaust Mount Bushes the fun can disappear quickly, and an early sign of failing bushes is exhaust knocks and rattles, the ultimate failure being an exhaust dragging on the floor!
STOP THAT RATTLE – Save your exhaust!
Our resident MX5 owner & Polybush employee, Ellis Blackman noted "I had a small oil leak which I didn't do too much about initially, a few weeks later I had the car on jack stands and whilst I was investigating the source, I noticed some oil along the exhaust towards the bushes, upon closer inspection the bushes were cracked and stretched, one of the exhaust bushes had already snapped so it was inevitable that I was going to have a failure, I'm so glad my exhaust didn't fall off when I was driving and that I could replace the parts at home"
27AU & 27AT Exhaust bushes
We have been selling exhaust bushes which fit the MK1 MX5 through MX5Parts for a long time, so a range expansion for the best selling sports car of all time seemed like a no brainer.
The new exhaust bushes we have created fit across a wide range of MX5 models ranging from the MK2 (NB) all the way through to the MK4. (ND) Not just reserved for upgraded exhaust systems/vehicles our bushes have been designed to be an OEM replacement but provide a longer-lasting bush that reduces flex in the exhaust system, as Polybush products remain unaffected by road contaminants, oil and fuel, you can keep driving without worry.
Mk2 & 2.5, 1998>2005 – Fitment
Three on the rear box and one on the centre pipe 27AU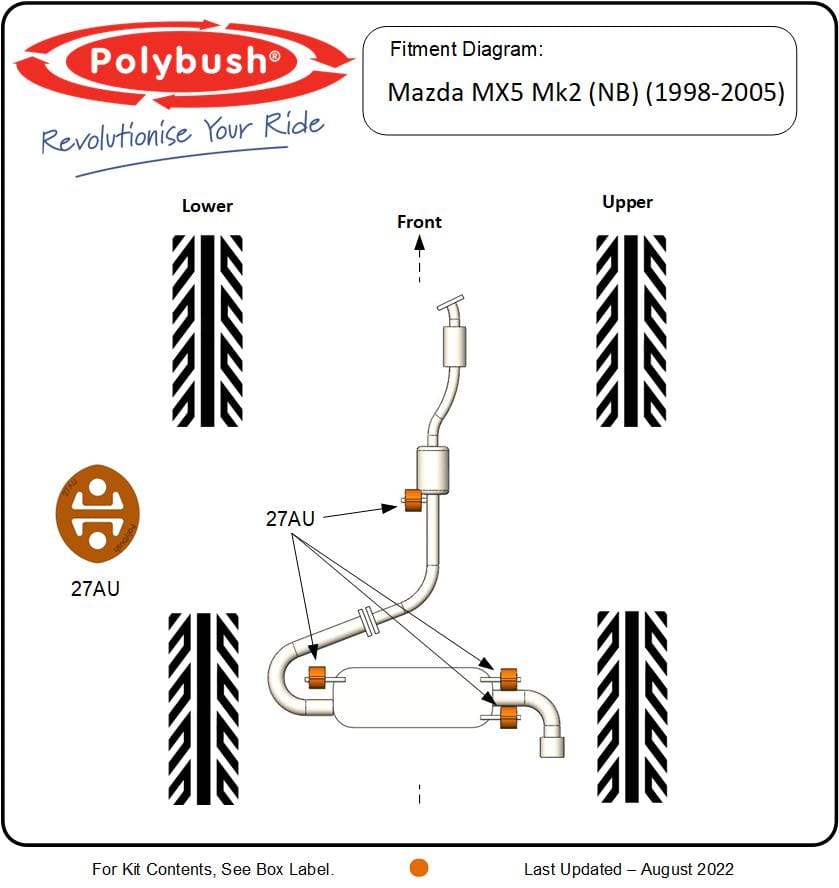 Mk3, 3.5 & 3.75 models, 2005>2015 – Fitment
There are two available sizes on the MK3 MX5. The right hand rear, left hand front and centre pipe rubbers are the smaller type 27AT and the right hand front and left hand rear are the larger type 27AU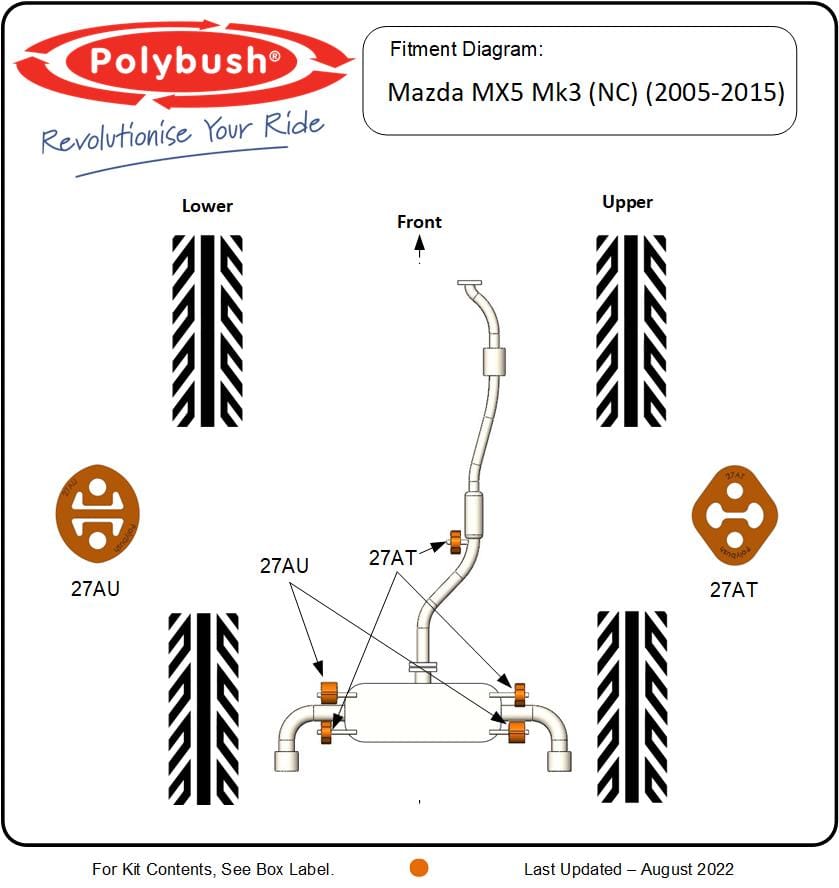 Mk4 & RF, 2016> +124 Spider – Fitment
Four on the rear box only 27AU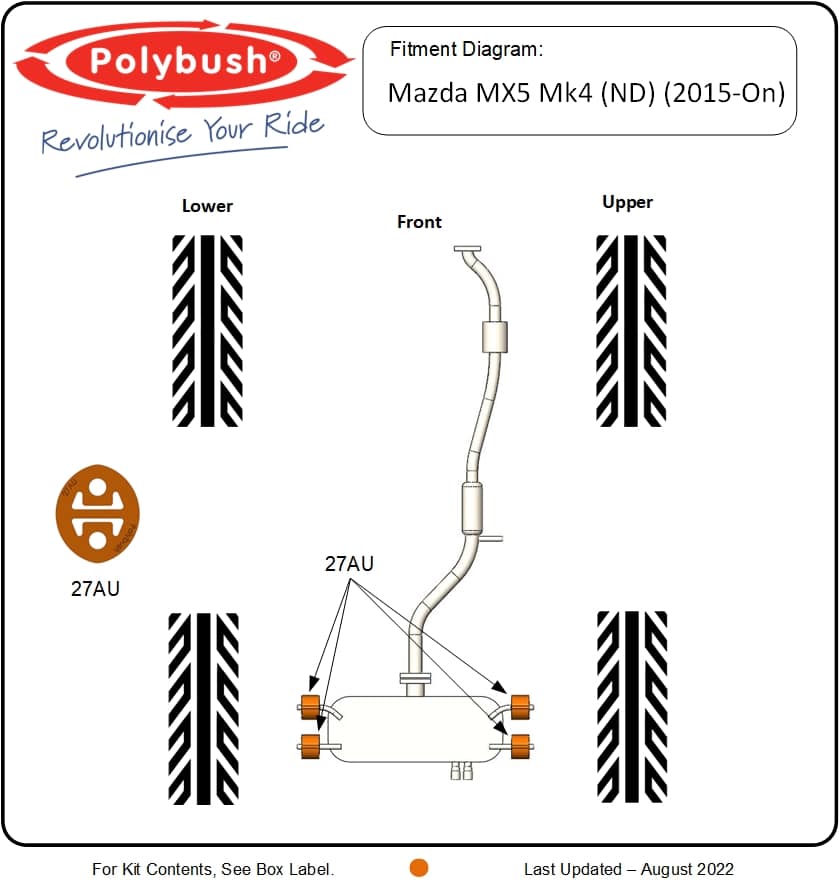 Fitting on every model of MX5  from mk2 onward including the Fiat 124 spider, these exhaust bushes will outlast rubber and allow you to enjoy your car year-round.
For other MK1 MX5 Bushes – CLICK HERE
For other MK2 MX5 Bushes – CLICK HERE
For other MK3 MX5 Bushes – CLICK HERE
For other MK4 MX5 Bushes – CLICK HERE