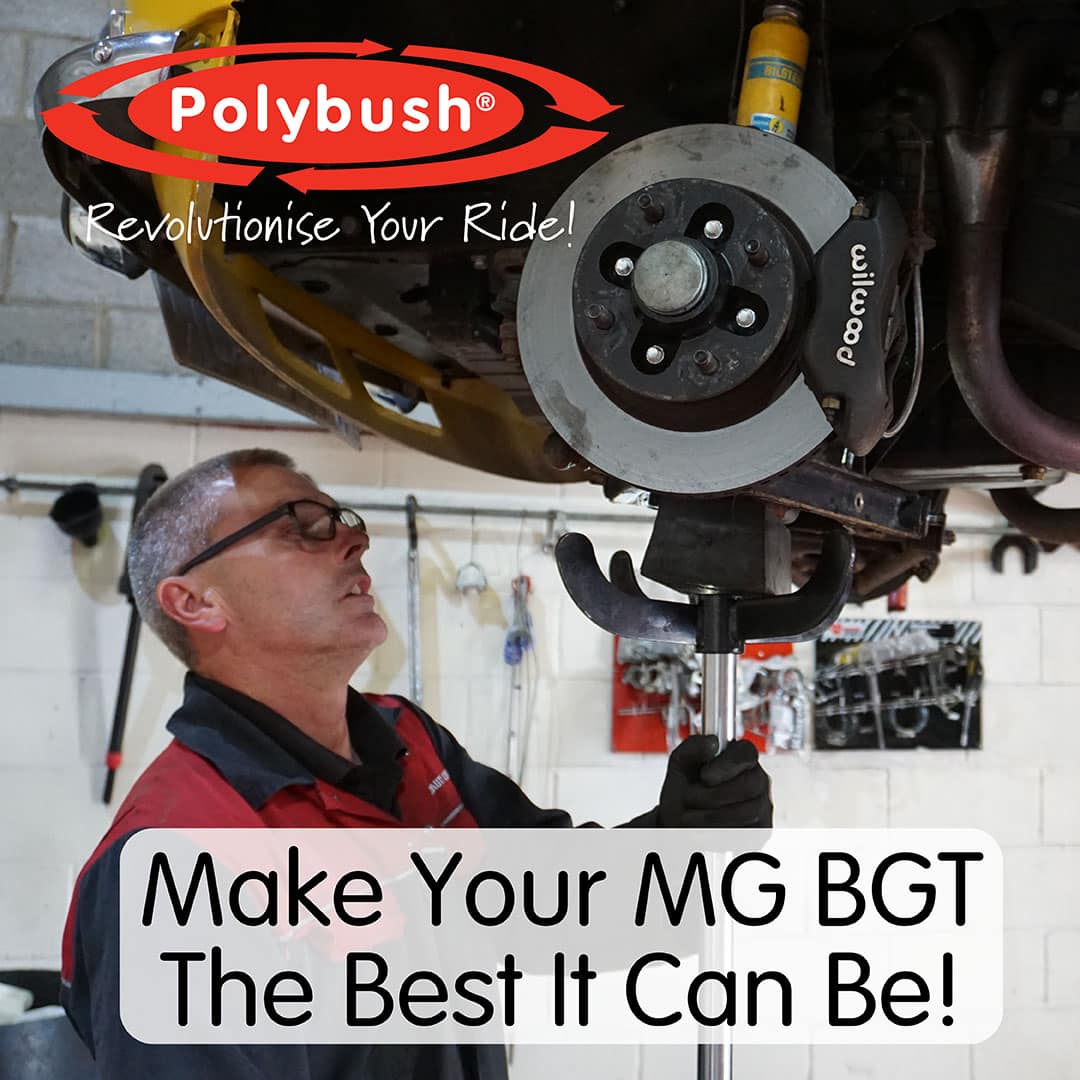 Revive Your MG BGT's Comfort and Handling with Polybush
Revive Your MG BGT's Comfort and Handling with Polybush Polyurethane Suspension Bushes
Picture this, you're behind the wheel of your classic MG, cruising down a winding road with a smile on your face, enjoying the journey without feeling every bump and vibration.
Sounds great, right? Well, dream no more! The solution lies in upgrading your suspension bushes to Polybush Kit 38 – With our Comfort Grade Polyurethane.
Recently, we received an interesting request from an MG owner who had custom-built his beloved BGT to Rally specifications, however, with advancing years and a desire for a more comfortable driving experience for both he and his wife, the owner found himself yearning for a smoother ride, so after researching various options, Mr Mills stumbled upon the Polybush Comfort Grade Polyurethane suspension bushes, and boy, did they deliver!
So, what makes Polybush's Comfort Grade so special? Let's delve into the details.
The Perfect Blend of Comfort and Drivability: Polybush Comfort Grade bushes strike a remarkable balance between comfort and driver confidence. Unlike some harsh polyurethane alternatives on the market, Polybushes are specifically designed to offer improved ride quality without sacrificing handling prowess. They absorb road imperfections, reducing harshness, and allowing you to enjoy a more supple ride without compromising the sporty character of your MG BGT.
Enhanced Durability and Longevity: One of the standout features of Polybush Comfort Grade bushes is their exceptional durability. Crafted from high-quality polyurethane, they outlast their rubber counterparts and provide consistent performance over time. These bushes are built to resist chemicals, oil, and extreme temperatures, ensuring they won't deteriorate easily, even under the most demanding driving conditions.
Easy Installation: Installing Polybush Comfort Grade suspension bushes is a breeze. You don't need to be a professional mechanic to get the job done. With basic tools and a little DIY spirit, you can replace your worn-out rubber bushes with these polyurethane marvels. Plus, Polybush provides comprehensive installation instructions and support to make the process as smooth as possible.
Restoring the Essence of Your Classic MG: By upgrading to Polybush Comfort Grade bushes, you're not only improving comfort but also restoring your MG BGT's handling to its former glory. These bushes offer precise and consistent suspension response, allowing you to carve corners with confidence, just like the good old days. Say goodbye to vague steering and that unsettling feeling when tackling twists and turns – Polybush has your back!
Customizable Solutions: Polybush understands that every car and driver have unique needs. That's why they offer a range of bushing options to cater to specific requirements. Whether you're seeking a plush, relaxed ride or a slightly stiffer setup for spirited driving, Polybushes come in various hardness grades, allowing you to tailor the suspension characteristics to what the car and driver wants.
In conclusion, if you're an MG BGT owner yearning for a smoother and more comfortable driving experience without compromising the car's handling prowess, Polybush Comfort Grade polyurethane suspension bushes are a game-changer. With their unique blend of comfort, durability, and restoration of handling, these bushes will give you the best of both worlds. So, buckle up, install those bushes, and get ready to rediscover the joy of driving your MG BGT with renewed comfort and confidence!