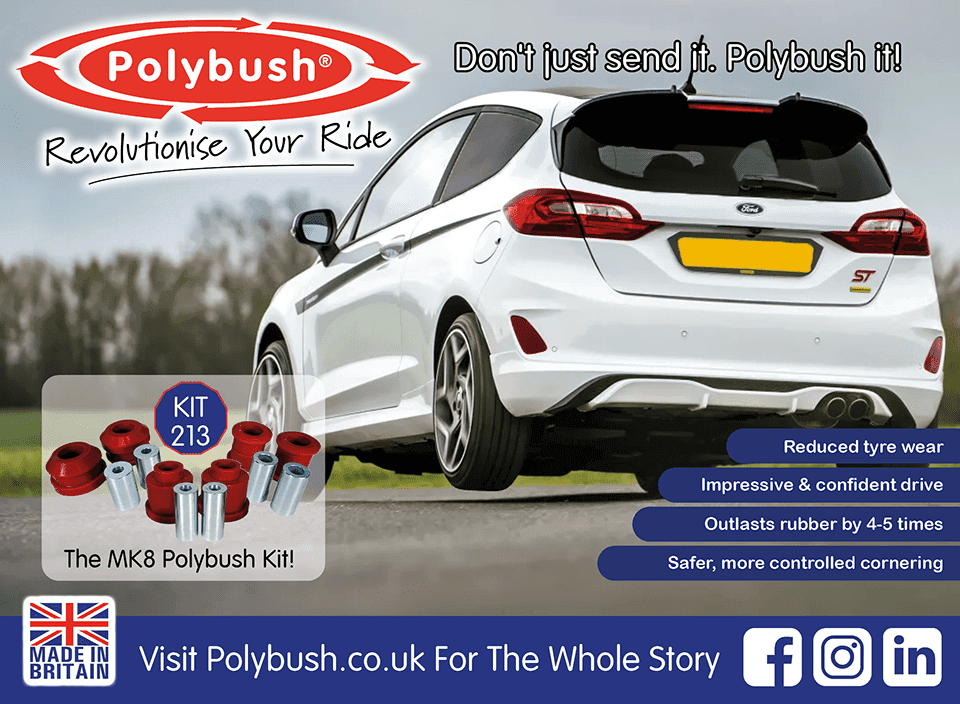 NEW PRODUCT: Enhancing the Ford Fiesta MK8 with a Polybush Suspension Bush Kit
The Ford Fiesta MK8 has long been regarded as a fantastic hatchback, offering a delightful balance of comfort, agility, and practicality, but, there is always room for improvement, especially for owners seeking enhanced performance without sacrificing the original comfort – Polybush is a leading manufacturer of high-quality suspension components.
In our relentless pursuit of excellence, we have developed a suspension bush kit for the Ford Fiesta MK8 – KIT 213, consisting of the front wishbone front bush 40CL, the rear bush 40CM, and the rear beam bush 40BS.
In this blog post, we delve into why this suspension bush kit is a game-changer for Fiesta owners who desire improved handling and driving dynamics whilst retaining the vehicle's inherent comfort.
Unleashing Performance:
Our bush kit for the Fiesta MK8 has been meticulously engineered to elevate the car's handling capabilities.
By replacing the original rubber bushes with Polybush, Fiesta owners can expect reduced suspension deflection and improved responsiveness. Installing Polybushes effectively minimizes unwanted movement, resulting in enhanced steering precision and sharper turn-in. These upgrades contribute to an overall more engaging and spirited driving experience, making every journey behind the wheel a thrilling affair.
Optimal Comfort Balance:
While many suspension upgrades tend to prioritize performance gains at the expense of ride comfort, we have struck the perfect balance with Kit 213.
Understanding the importance of maintaining the vehicle's original ride quality, we have engineered our polyurethane bushes to provide excellent performance benefits without compromising comfort. The kit's design ensures that vibrations and harshness transmitted through the suspension are adequately dampened, allowing for a smooth and composed ride, even on rough roads. Fiesta owners can relish in the fact that their beloved hatchback will retain its comfort, making it suitable for daily commuting as well as spirited driving.
Enhanced Durability:
Polybush have earned a reputation for producing robust suspension components that are built to last. The polyurethane material used in our suspension bush kits exhibits superior wear resistance and degradation compared to conventional rubber bushes, in fact our bushes last around 4-5 times longer than rubber – With Polybush's bushes installed, Fiesta owners can enjoy long-lasting performance upgrades without worrying about premature deterioration or the need for frequent replacements. The enhanced durability ensures that the suspension system remains in optimal condition for an extended period, reducing maintenance costs & increasing tyre life, providing peace of mind.
Front Wishbone Front Bush – Installation Video
Straightforward Installation:
We understand the importance of convenience for Fiesta owners. Our KIT 213 is designed to be a direct replacement for the original bushes, ensuring a straightforward installation process.
This means that enthusiasts can easily upgrade their suspension system with minimal hassle and without requiring specialized tools or extensive modifications. We also provide detailed installation instructions, making the process accessible to both seasoned DIYers and those less experienced with vehicle modifications.
Rear Beam Bush – Installation Video

Conclusion:
Polybush's suspension bush kit for the Ford Fiesta MK8 offers a remarkable opportunity to enhance the vehicle's performance without sacrificing its inherent comfort. The combination of improved handling, optimal comfort balance, enhanced durability, and straightforward installation makes this kit an enticing choice for Fiesta owners looking to elevate their driving experience. Whether it's tackling twisty backroads or navigating city streets, KIT 213 ensures that the Fiesta MK8 remains an agile, engaging, and comfortable hatchback that delivers the best of both worlds.
Upgrade your Fiesta today and discover the difference it can make in your driving enjoyment.