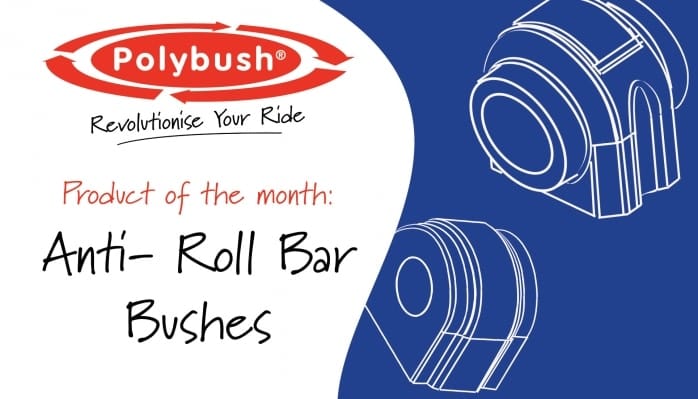 PRODUCT OF THE MONTH- ANTI-ROLL BAR BUSH
New for 2020, a dedicated product of the month! Providing you with information to better understand your suspension.
This month- Anti-Roll Bar Bush
A simple but vital component for a safe and comfortable ride.
When should you replace your ARB bushes?
There are a few obvious signs of wear for bushes which can include:
 Rattling and squeaks
 A harsh ride
 Excessive sway
If a visual inspection identifies wear, the anti-roll bar should be replaced following the manufacturers recommended procedure.
Why choose Polybush ARB bushes?

Unlike rubber bushes, Polybushes do not crack or suffer from compression set and are unaffected by oil, petrol and road contaminants. Polybushes are designed to be a perfect fit and last 4-5 times longer.
Polybush has a range of features that benefit your ride:
Controlled suspension movement
Impressive and confident ride
Excellent noise damping
Fit & forget – Excellent longevity
Lasts 4-5 times longer than original parts
Our ARB bushes come in a choice of grades to suit your vehicle.
Want to know more about Polybush? Send us your suggestions for our next product highlight to: polybushmarketing@polybush.co.uk
Need more details call us on 01978 664 316 or email sales@polybush.co.uk