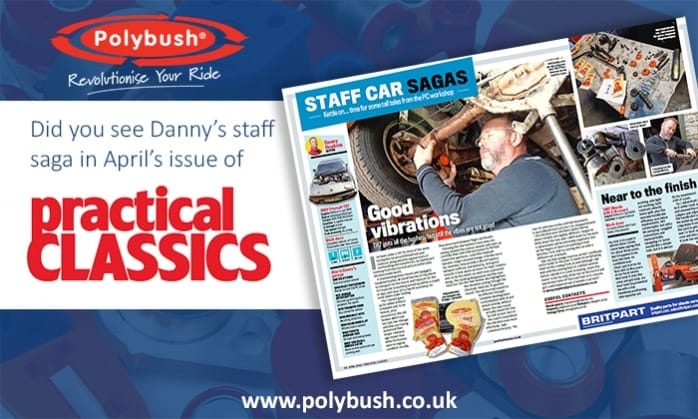 TR7 RESTORATION – GOOD VIBRATIONS
Did you catch the April issue of Practical Classics? See Danny's great staff saga on fitting Polybushes to his beloved Triumph TR7?
Danny's TR7 deserved some much needed TLC, with its original rubber bushes no longer fit for purpose; it was the ideal time to restore the suspension back to its factory feel by fitting Polybush, and revolutionising his drive.
After fitting the Dynamic Orange kit 31, Danny commented: 'The kit was easy to fit, and once fitted, allowed me to diagnose the car's other handling and ride issues on a whole new level! The work in progress never ends!'
Why choose Polybush?
The mechanical properties of Polybush Polyurethane make it an ideal material for suspension bushes. Polybushes offer a range of benefits to your vehicle.
Safer, More Predictable Cornering
Controlled Suspension Movement
Impressive & Confident Ride
Improved Turn-in Stability
Reduced MOT Costs
Prolonged Tyre Life
Unaffected by Oil, Fuel & Road Contaminants
Lasts 4-5 Times Longer Than Rubber
Polybushes are available for a wide range of classic vehicles, click here to view the full range.
Special thanks to Danny and the Practical Classics team, they never fail to produce some stunning restoration work.