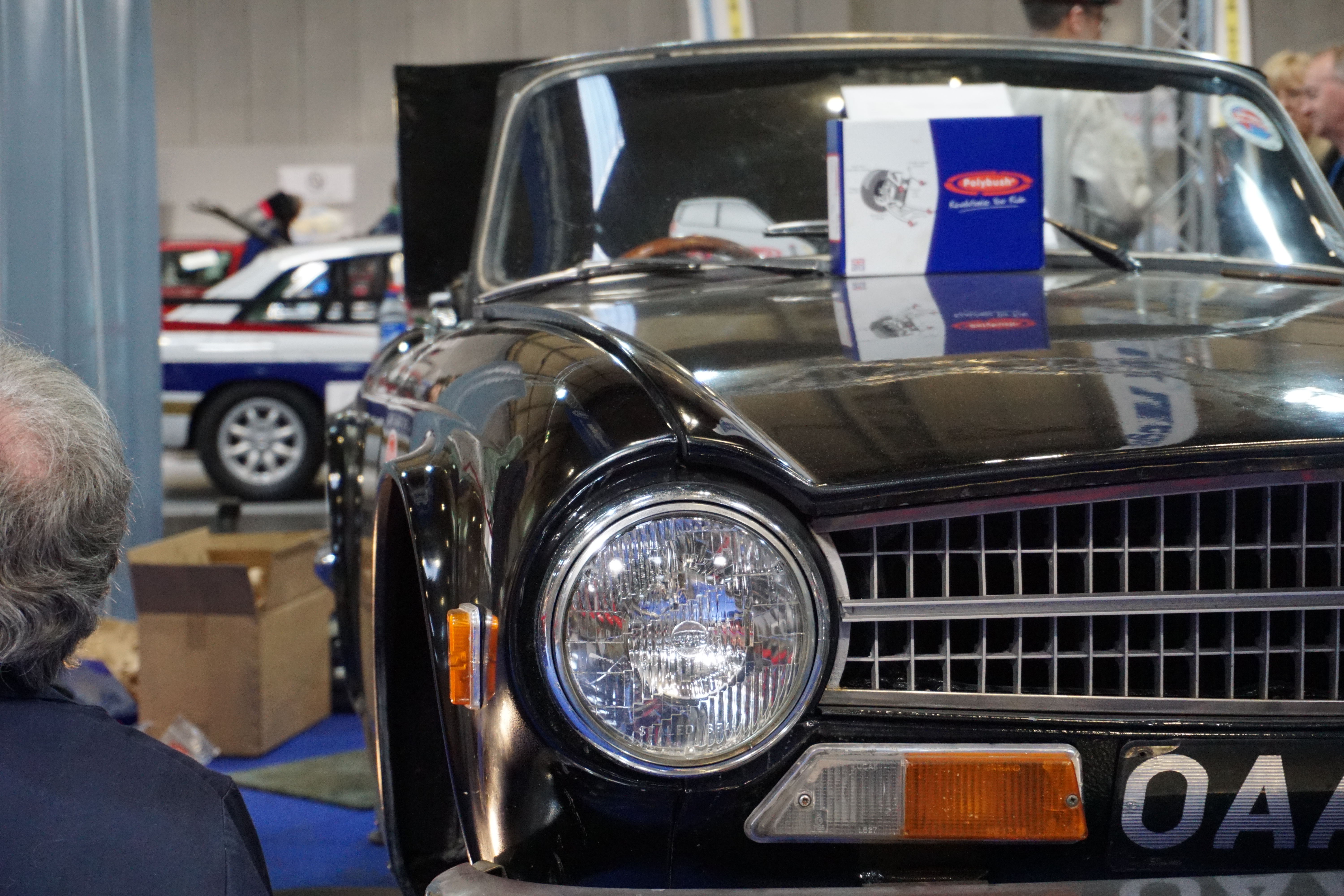 Triumph TR6 – Suspension rebuild, Live at the Practical Classics Restoration Show
There was much to see and do at the Practical Classics Restoration Show, but one of our favourite things was the live suspension rebuild of Wayne Scott's Triumph TR6.
Wayne drove his TR6 to the NEC for the rebuild and hoped to drive it home afterwards.
Steve, Wayne and Phil's plan was to remove the late 60's suspension and bring it back up to date with an upgrade kit from Koni, combined with a full complement of Polybushes, some new brake lines, underseal, drive shafts and a few other small parts – if you're under there, why not do it all!
The trio hoped to get the TR6 back on the road ready for Wayne's drive home on Sunday evening, so with 2 days to complete this upgrade with a live audience, they certainly had their work cut out for them.
As with all adjustments on classic cars, competing with rust, general age, lack of copper slip and in this case no power tools, makes for an interesting and very realistic swap and was ideal for the audience to watch and interact with.
Once all old parts were removed and space created, Wayne, Phil and Steve meticulously cleaned, prepped and painted the chassis.
When completed they made their way onto the harder job of removing the 60-year-old, extremely perished bushes, ready for the fitment of our Blue 65A Comfort Polybush's All marques of triumph bushes are available, if you'd like your own, click here!
As Wayne's car is something to be enjoyed on a sunny day, Wayne wanted a factory fresh feel with all the benefits of Polyurethane – Resistance to oil, coolant, road contaminants, UV and compression set, but not a performance upgrade, which is also available should you race or want to push the car to its limits.
Once all of the Polybushes were fitted to their respective arms the team was ready to put it all back together again, combined with the above-mentioned upgrades, everything was on track. During the fitment demonstration, Wayne talked through how to install the new Polybushses and recommended that when fitting Polybush components you DO NOT use greases, which can trap dirt, but rather a lubricant that will evaporate off, such as salt-free dish soap, or tyre soap.
As you can see there are huge changes when converting your Triumph from lever arm suspension over to a more up to date telescopic damper, these lever arms were fantastic in their day, but the new suspension systems excel in a multitude of ways, especially when considering their adjustability.
On Sunday afternoon after replacing the suspension, anti-roll bar, steering rack and diff bushes as well as a chassis paint, brake line replacement and a whole host of other upgrades the team was excited to drop the car back on its own wheels in preparation for its drive home in the hours to come.
All in all the live demonstration was a hit with the public as well as the trade, showing a real insight into what goes into looking after a classic car.
Polybush would like to thank Steve Denton, Wayne Scott and Phil Pope for their tireless efforts as well as Rimmer Brothers for going above and beyond to make sure this car had all the parts it required during its live rebuild.
A big thank you to all that came and we hope to see you again next year.