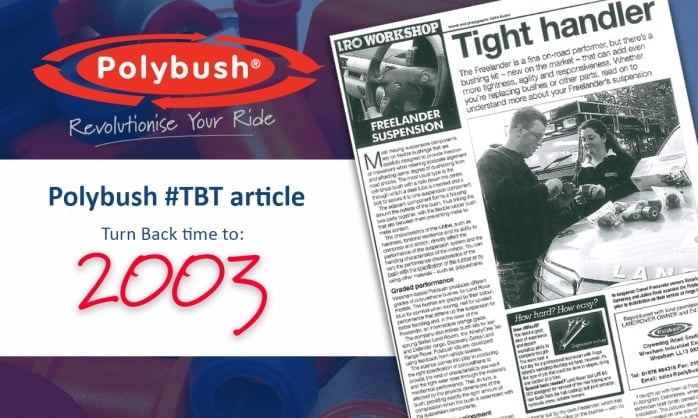 FEELING NOSTALGIC? HERE'S A THROWBACK TO 2003
Take a look back at our Workshop article for the Freelander 1 kit release!
The Freelander 1 kit 69 was developed as an addition to the already prestigious Land Rover range, Polybush endeavors to meet the needs of their customers, and in 2003 this was to provide a Polybush kit for the Freelander 1 which not only lasts longer but improves its ride.
The workshop article shows a step-by-step guide on how to fit the Polybush kit, showing the ease of fitment but also explaining the benefits of using Polybushes, other benefits include:
Controlled suspension movement
Prolonged Tyre Life
Improved Turn-in & stability
Safer more predictable cornering
Ed Evans also fitted these bushes to his Freelander 'The bush kit enhances the standard Freelander's already excellent handling, giving a very positive feel and improved steering response.'
Since 2003 Polybush have continued to add to their product range lists, with developments constantly on-going. Polybush are renowned for manufacturing quality aftermarket Land Rover suspension parts that last 4/5 times longer than rubber. Manufactured in the UK using only high grade Polyurethane, which is the perfect material for suspension bushes due to its high tensile strength and longevity.
FULL ARTICLE:
View the full Land Rover range, Click here
Have an issue you want to be solved?
Polybush are renowned aftermarket problem solvers, contact the team today:
sales@polybush.co.uk     01978 664316   www.polybush.co.uk