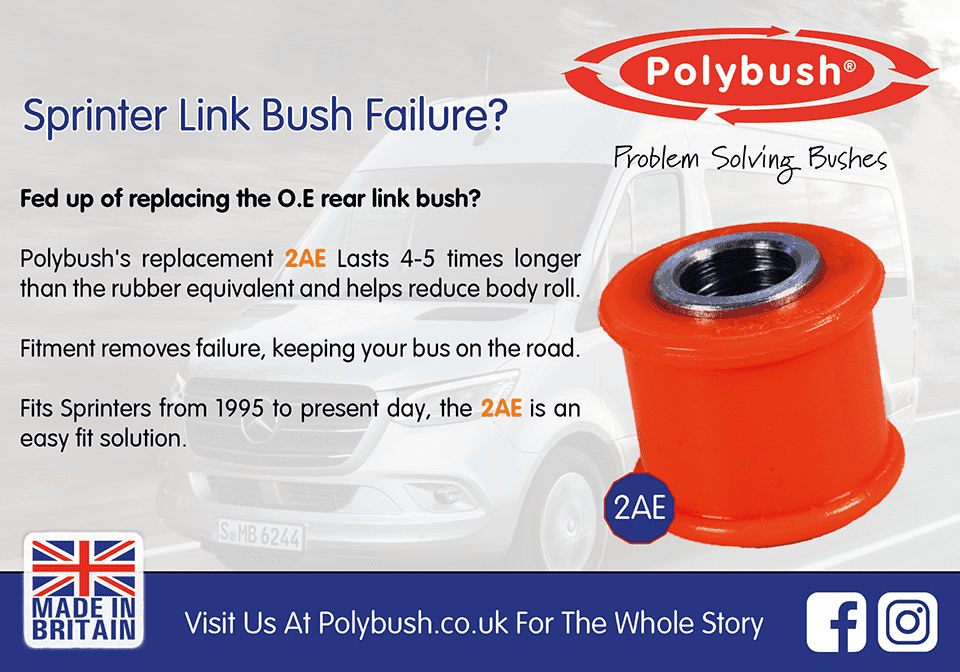 Mercedes Sprinter Minibuses – Link Bush Failure
If your business relies on the Mercedes Sprinter minibus to transport your staff or clients, you know the importance of keeping it in top condition.
One of the essential components that often get overlooked is the rear link bushes. These small but critical components are responsible for keeping the suspension system in check, ensuring a smooth and safe ride. If you haven't upgraded your rear link bushes to the 2AE Polybush, here's why you should consider doing so.
Polyurethane is a high-performance material that is ideal for suspension components.
Unlike rubber, which can crack and degrade over time, Polybush products are incredibly durable and resistant to wear and tear.
This means that your rear link bushes will last up to 4-5 times longer and require less maintenance than their rubber counterparts.
The 2AE Polybush is designed specifically for the Mercedes Sprinter minibus, and it fits all models from 1995 through to the present day.
This means that it's perfect for large fleets, especially those with older minibuses that may be experiencing issues with their suspension system.
If a rear link bush were to fail, it could lead to serious problems with your vehicle's suspension system. The most obvious symptom of a failing rear link bush is increased noise and vibration when driving, particularly over rough terrain or slow tight turns. However, a more severe consequence of a failed rear link bush is the potential for loss of control of the vehicle.
Preemptive maintenance is always the best option when it comes to suspension components like rear link bushes.
By upgrading to the 2AE Polybush, you'll not only improve the longevity of your rear link bushes, but you'll also ensure that your minibus is safe and reliable on the road.
For more information on how we can help your fleet stay on the road, please get in touch – 01978 664316