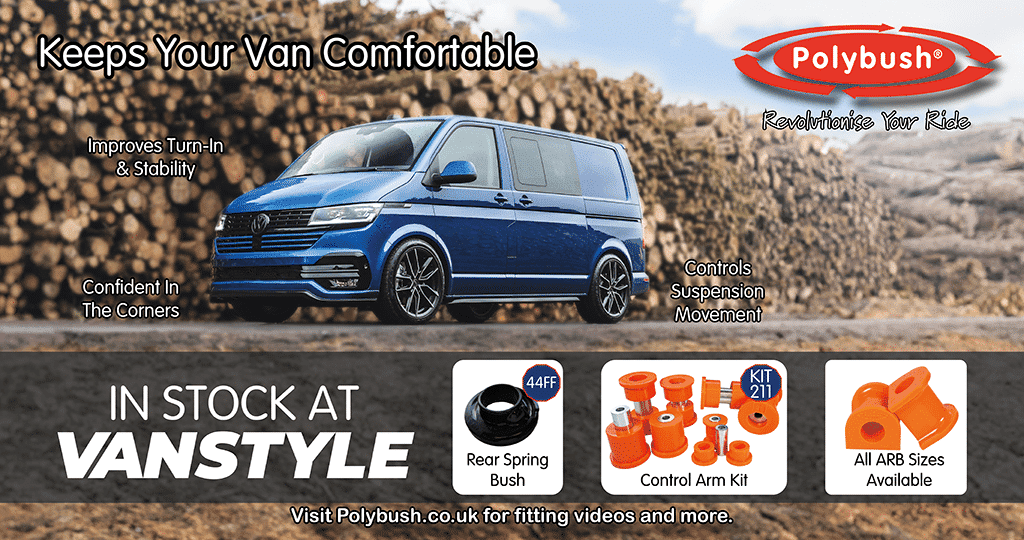 Unleashing the Full Potential of Your VW T5 & T6: The Polybush Upgrade
Introduction:
When it comes to transforming your VW T5 & T6 into a comfortable and stable camper, every detail matters. One often overlooked aspect that can significantly enhance your driving experience is the suspension system. At Polybush, we believe in the power of polyurethane suspension bushes to revolutionize your ride. In this blog post, we'll delve into why owners of the VW T5 & T6 should consider installing Polybushes, particularly the Polybush Kit 211, for unparalleled comfort, product longevity, and improved turn-in and stability – especially when adding the extra weight of a camper conversion.
Why Polybushes?
Comfort: Polyurethane bushings offer a smoother and more comfortable ride compared to traditional rubber bushes. The increased resilience of polyurethane ensures a softer response to bumps and irregularities on the road, translating to a more pleasant driving experience.
Product Longevity: Polybushes are known for their durability. Unlike rubber, polyurethane is highly resistant to wear and tear, making it an ideal choice for VW T5 & T6 owners who want a long-lasting suspension solution. The Polybush Kit 211, designed specifically for these models, ensures comprehensive coverage and a reliable performance boost.
Improved Turn-In and Stability: The Polybush Kit 211 doesn't just promise longevity; it brings tangible improvements to your vehicle's handling. With enhanced turn-in and stability, you'll feel more in control, especially crucial when your VW is loaded with the additional weight of a camper conversion, or even just your adventuring gear.

Tailored Solutions for VW T5 & T6:
Anti-Roll Bar Bushes Upgrade: For a quick and impactful upgrade, consider replacing your anti-roll bar bushes with Polybush alternatives. This can be easily done at home and will noticeably reduce body roll, adding to the overall stability of your camper.
Front Wishbone Rear Bushes (OEM Part Number – 7H0-407-182/A): The Front Wishbone Rear Bushes are often a source of frustration for VW T5 & T6 owners. Upgrade to Polybush 44EC for frustration-free driving. Say goodbye to squeaks, rattles, and performance compromises – Polybush 44EC is the solution for a smoother ride.
Where to Find Polybush Kits:
Polybush products are available through various specialists, but for VW T5 & T6 owners, our key recommendation is Vanstyle. They offer full kits, individual parts, and a plethora of other modifications for these specific models.
Benefits of Polyurethane Suspension Bushings:
Resistance to Wear: Polyurethane outlasts traditional rubber, providing a longer service life.
Improved Performance: Enhanced handling, stability, and responsiveness on the road.
Reduced Noise: Polybushes reduce squeaks and rattles, providing a quieter driving experience.
VW T5 & T6 Front Wishbone Lower Bush Fitting Video:
In conclusion, investing in Polybushes, especially the Polybush Kit 211, is a game-changer for VW T5 & T6 owners. Unlock the full potential of your camper with improved comfort, longevity, and stability – because every journey deserves a smoother ride.