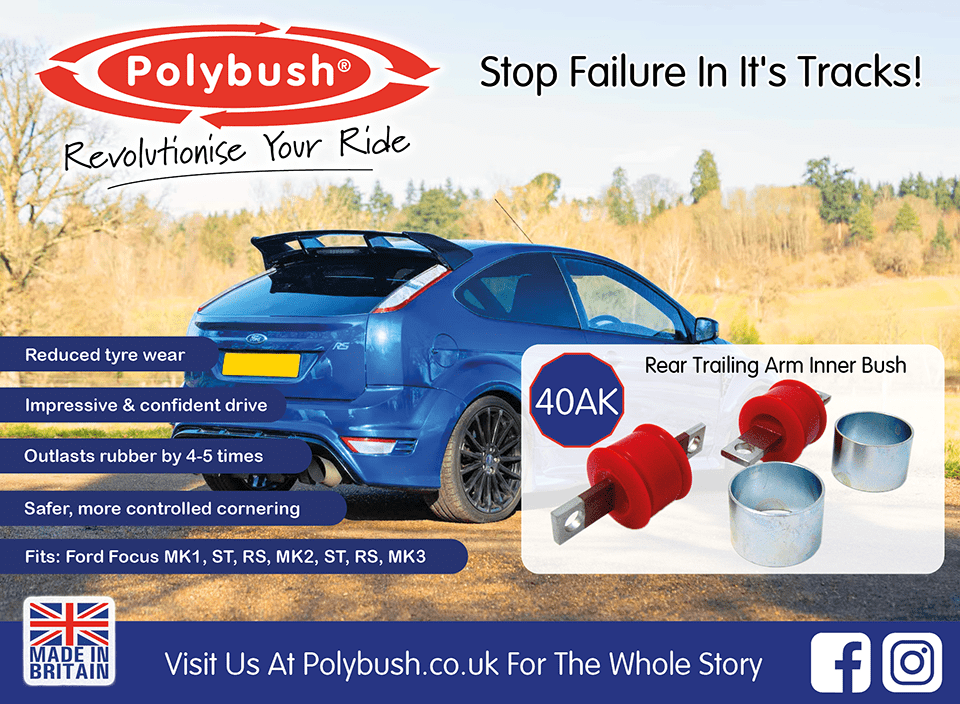 40AK – Stopping Failure In Its Tracks On The Ford Focus
As a driver, or indeed a mechanic you want your car to be reliable and efficient.
One way to achieve this is by maintaining/upgrading your car's suspension system as it is responsible for keeping your car stable and comfortable on the road.
Rubber bushings, which are commonly used in suspension systems, wear out quickly, leading to problems such as excessive vibration, poor handling, and even safety issues.
Polyurethane bushings, like the Polybush's 40AK Rear Trailing Arm Inner Bush, are a great solution to these problems, especially as replacing with O.E is extremely expensive, direct from the manufacturer the bush is only available as part of an assembly – Fitting Polybush allows you to JUST replace the failed part.
Rubber bushings are susceptible to wear and tear due to heat, chemicals, and friction exposure.
Over time, rubber bushings can become brittle, cracked, and deteriorated, leading to excessive movement in the suspension system. This can result in a loss of control, poor handling, and a harsh ride. Additionally, rubber bushings are not as durable as polyurethane, meaning they may need to be replaced more frequently.
Polyurethane bushings are much more resistant to wear and tear, meaning they last circa 4-5 times longer than rubber bushings. Unaffected by Oil, Fuel, & Road chemicals, as well as having superb abrasion resistance, they do not deteriorate as quickly as rubber bushings. This makes them an ideal choice for drivers who want to ensure their car's suspension system is reliable and efficient.
The Polybush's 40AK Rear Trailing Arm Inner Bush is specifically designed for Ford Focus MK1, Ford Focus MK1 ST and RS, Ford Focus MK2, Ford Focus MK2 RS, Ford Focus MK2 ST, Ford Focus MK3, Mazda 3 (BK), Mazda 3 (BL), Mazda 5 (CR), Mazda 5 (CW), Volvo C30, Volvo C70, S40 MK2, and Volvo V50. By installing this bushing, drivers can expect improved handling, increased stability, and a smoother ride. Additionally, the Polybush's 40AK Rear Trailing Arm Inner Bush is easy to install, meaning drivers can quickly and easily upgrade their suspension system.