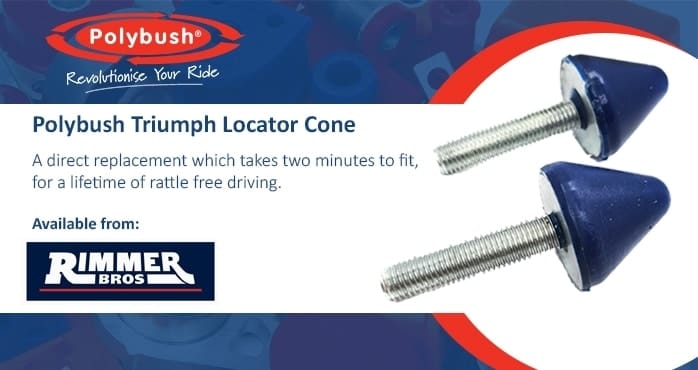 POLYBUSH TRIUMPH BONNET LOCATOR CONE
It takes 2 minutes! That's it!
Get rid of that rattle and keep your bonnet secure!
Easy to fit and a direct replacement for your Triumph's bonnet locator cone, Polybush's 35M (612962POLYBUSH) retains its shape and does not become brittle, ensuring the bonnet will remain securely closed.
In partnership with Rimmer Bros, Polybush designed and manufactured the 35M after a common failure was identified – After a long working relationship with suspension bushes, they knew the properties of the Polybush material would make it a perfect alternative for the original rubber component – All Polybush parts are manufactured in the UK using only high-quality pure materials, providing strong longevity, flexibility, and durability.
The Polybush Triumph bonnet locating cone is compatible with the Triumph Spitfire, GT6, Herald, and Vitesse.
Only £8.28 for a lifetime of rattle-free drives. Find it HERE.
For more information contact Rimmer Bros today, or visit their website on
www.rimmerbros.com | 01522 568 000
To see all available Triumph Parts – Click here